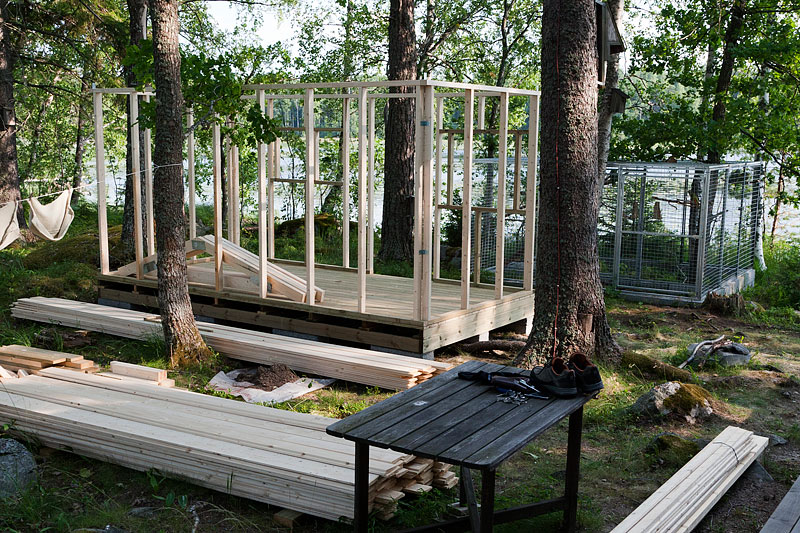 (2-4/7) So what's this? Neighbors or another project that will consume our quality time with the big ones and delay updates of the Webpage?
---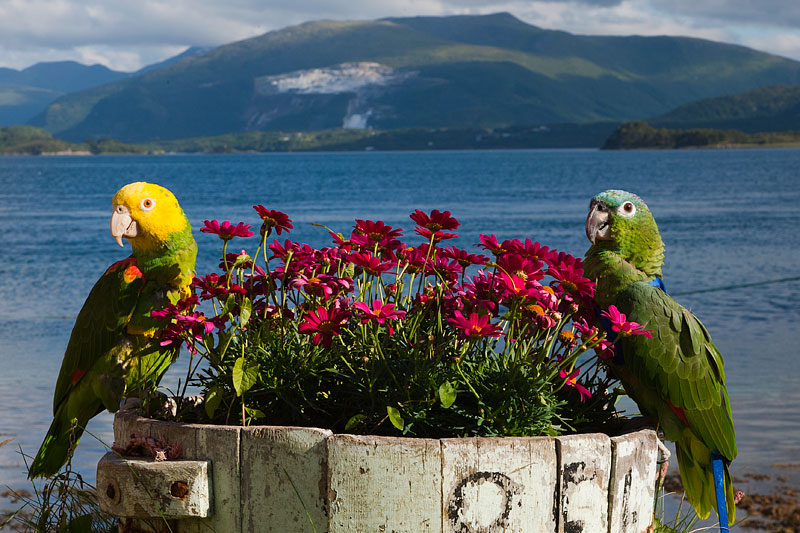 (8-16/7) So it's time for the annual dive trip to Norway. This week we had one warm and sunny day. All other days where 15 degrees, rainy and with a cold wind, the water temperature was below 10 degrees. At the same time Sweden had around thirty and the sun shining from a clear blue sky. That ended when we came back :o(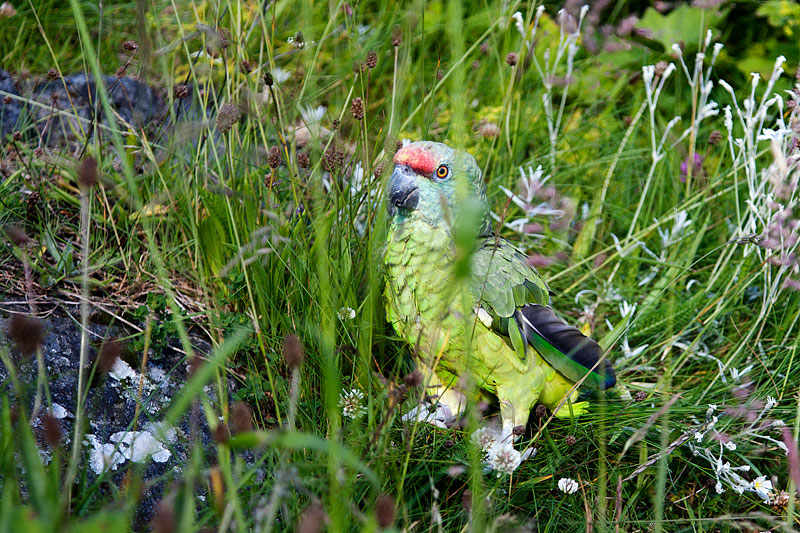 Victoria is in a way fortunate that she cannot fly and hence walk freely, or is she?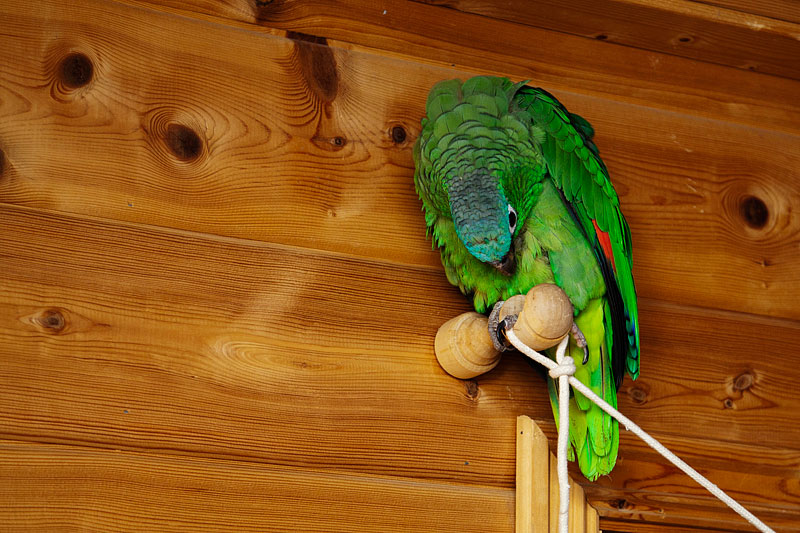 So, most of the time we sat indoors.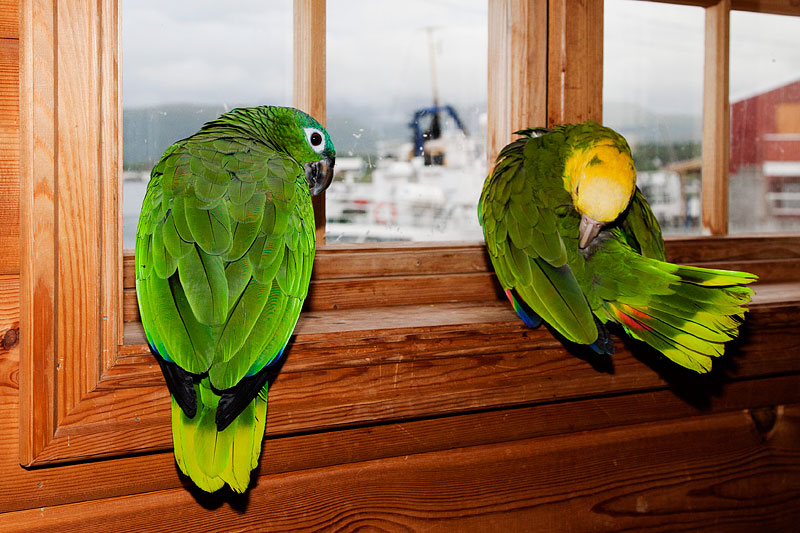 Remember this place? We have met before at this romantic view...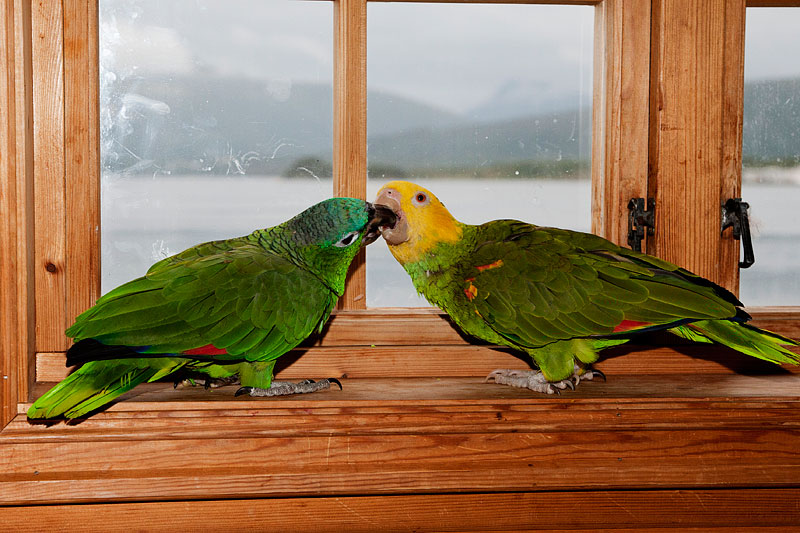 Time for the annual kiss? Why not?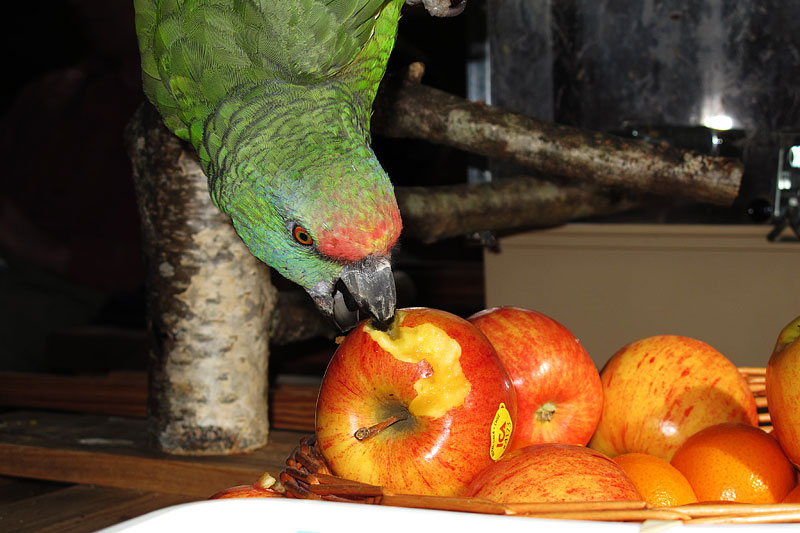 Meanwhile, Victoria is stealing from the apples.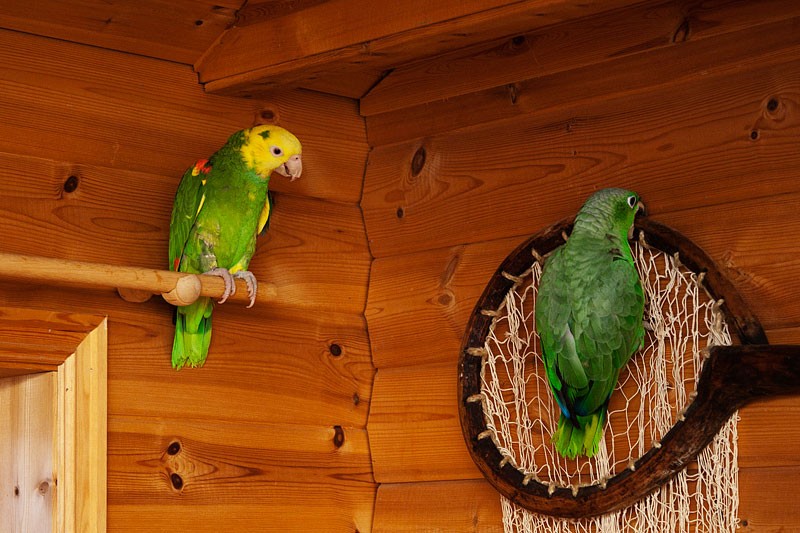 Being indoors results in lots of excess energy and sometimes that results in problems.
---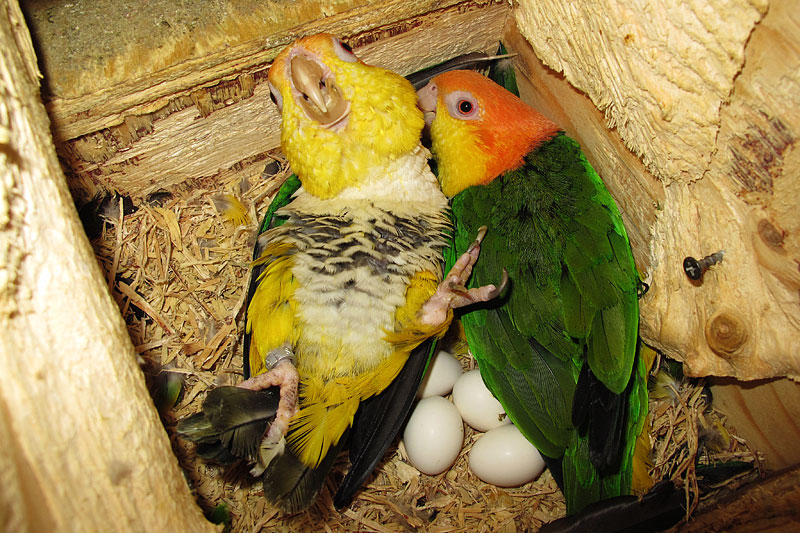 (20/7) Back in Sweden again, we went for a one week trip to visit friends. This is how Caiques nest...
---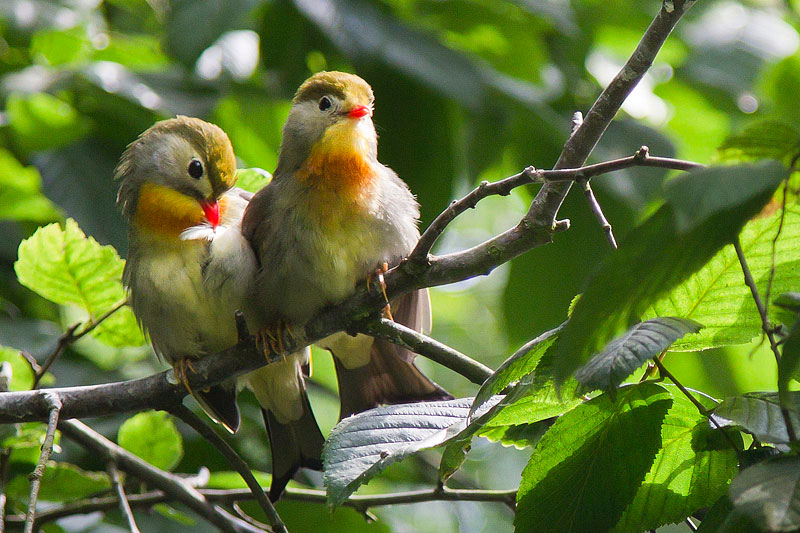 (22/7) We did a visit to the re-branded bird park outside Helsingborg, today it is called Djurparken (Animal park) Helsingborg. As indicated by the new name, they now keep lots of other animals like small monkeys, kangaroos, rabbits and Flamingos. If you are in the vicinity, we recommend a visit!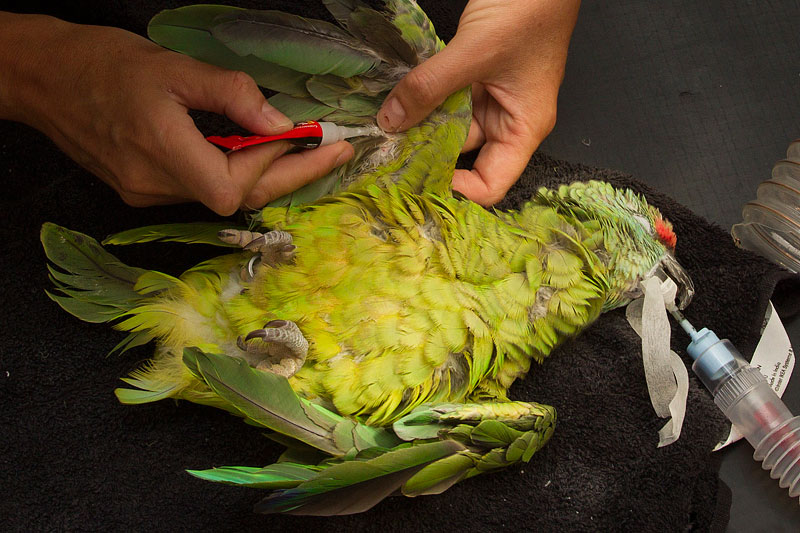 Later that day, we went to Fågelkliniken in Jakriborg to graft new feathers on Victoria. And yes, that is superglue.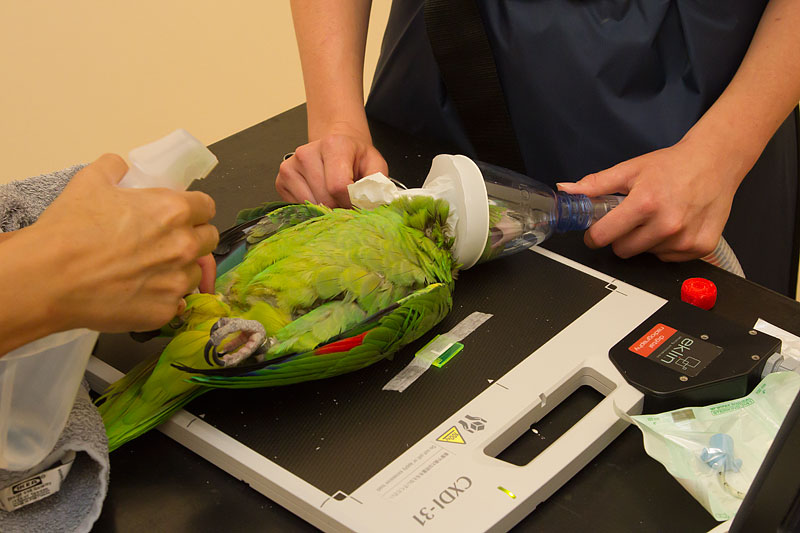 Also Morran got her share. When we have no full health check on her, it was now time! Everything was as expected ok. Here she is about to have an x-ray.
---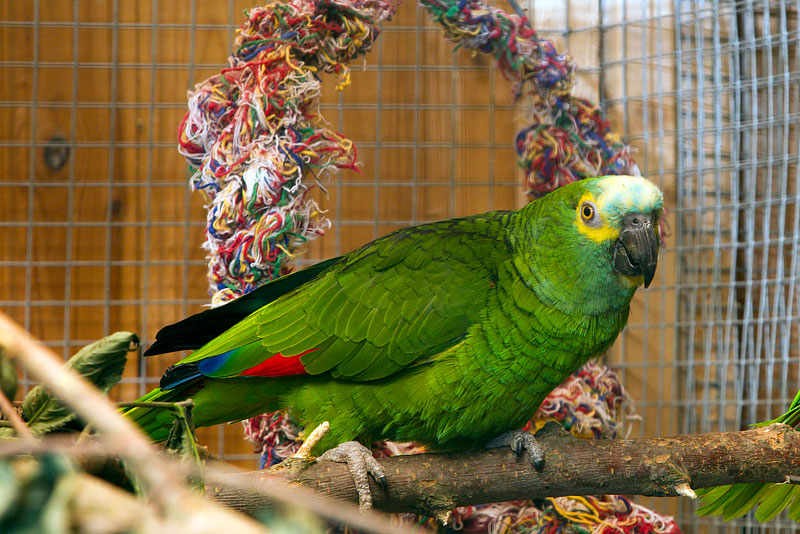 (23/7) Do you remember our old friend Enok the Beaver? He had lived a hard life when he came to us 2003. Since the summer of 2004, he thrives at a new home where we visit him every year.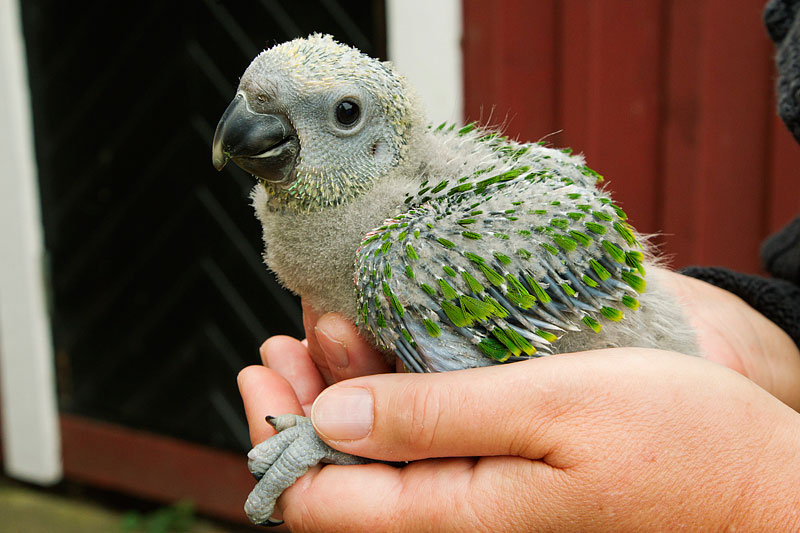 And this year he had a real surprise for us. At the age of about 30 he has become a proud father! That is what we call a success story!
---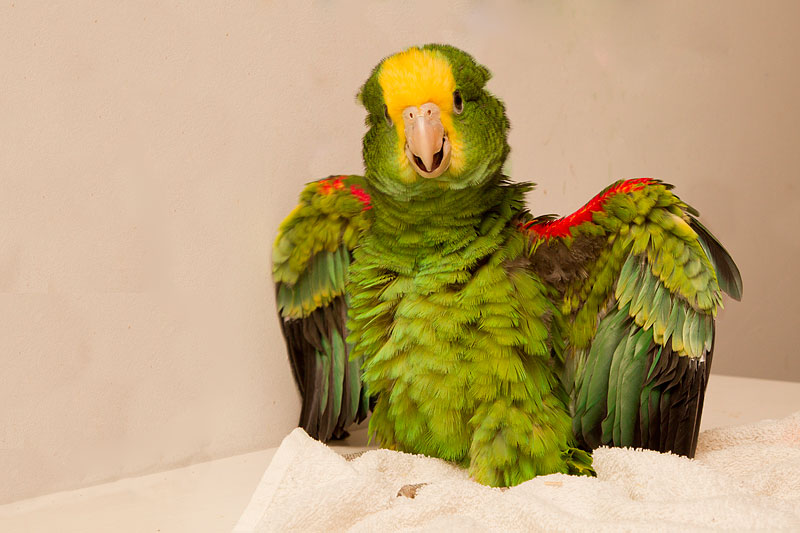 (24/7) Another cute bappy, Cinzia, a 60 day Yellow headed female amazon parrot.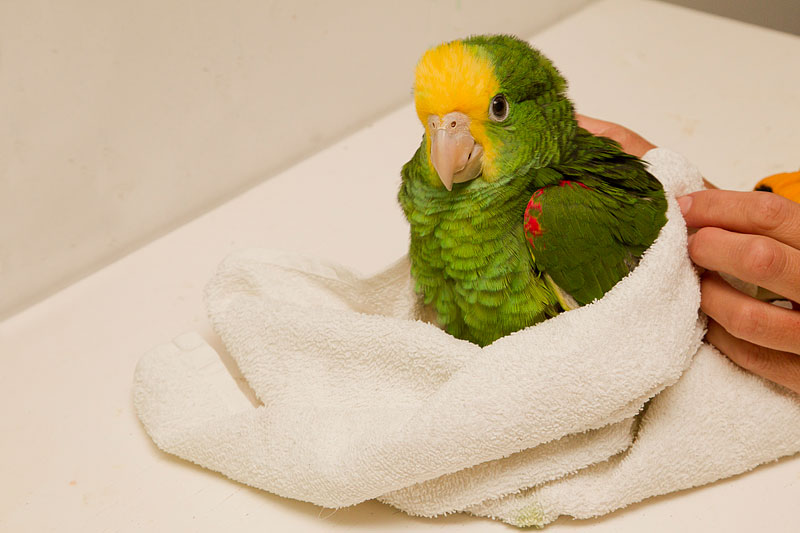 Even when the pictures tell a different story, the truth is that it is far from tame when the parents have fed it.
---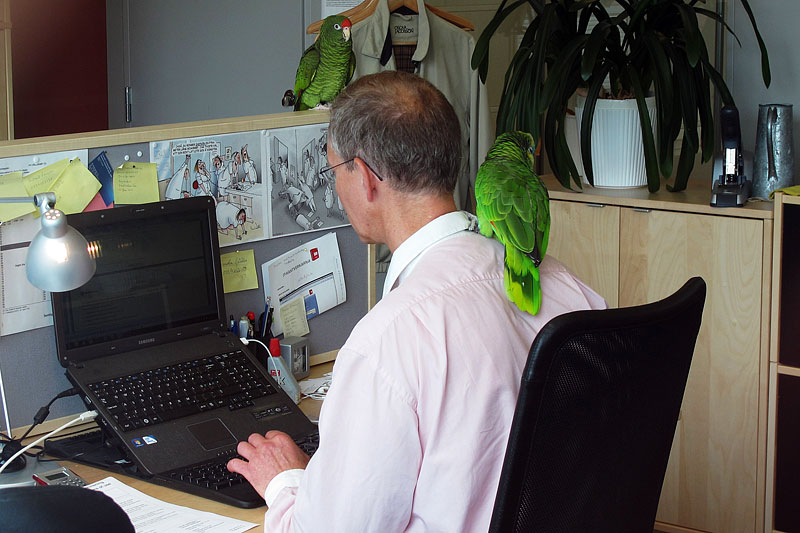 (26/7) Back home again we have to confess that not the entire flock joined the one week trip. Fia and Youschi had to stay at home and be at the office...
---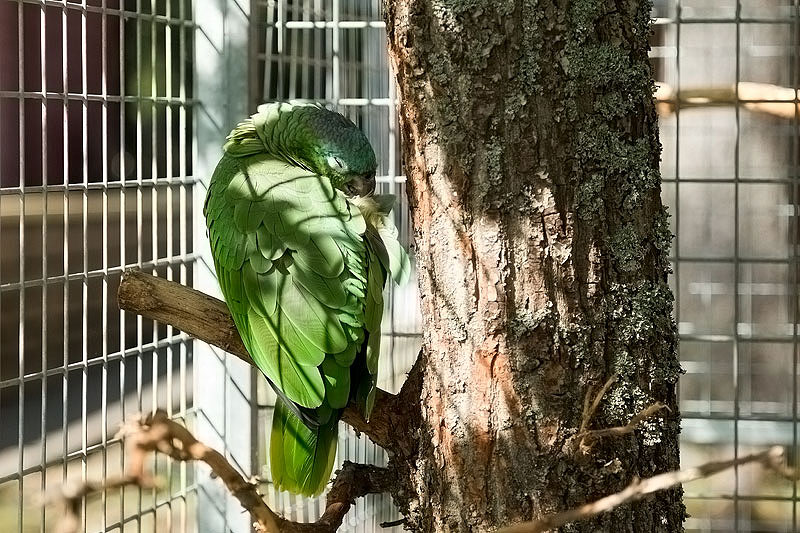 (4-8/8) Summer and finally time to enjoy it by being outdoors.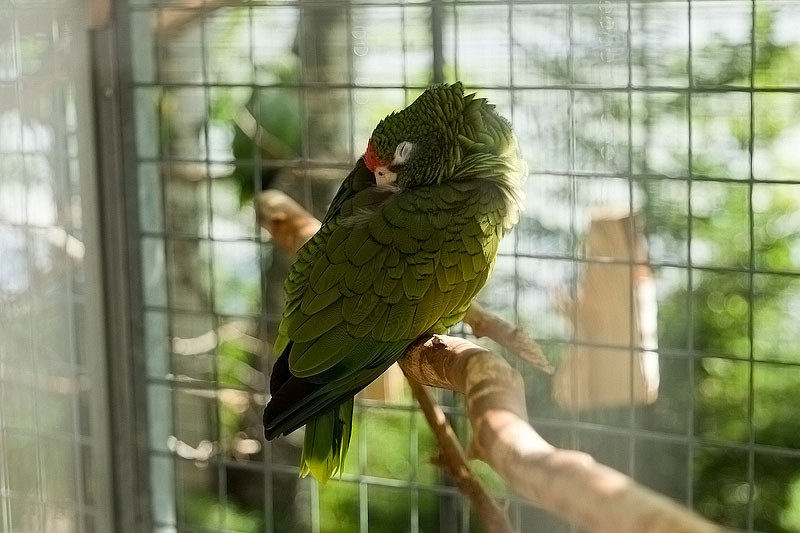 It is easy to spot when we are satisfied and feel safe, then we sleep...
---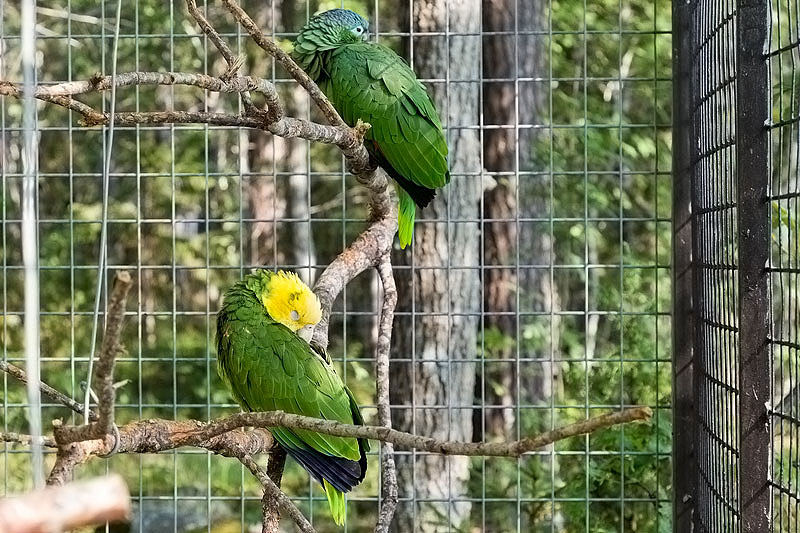 (13-15/8) Another satisfying weekend.
---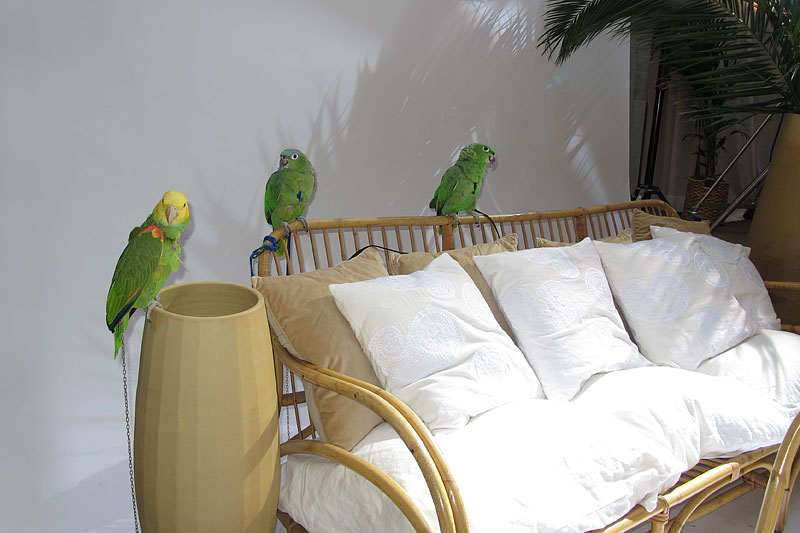 (16/8) What happens here, where are we?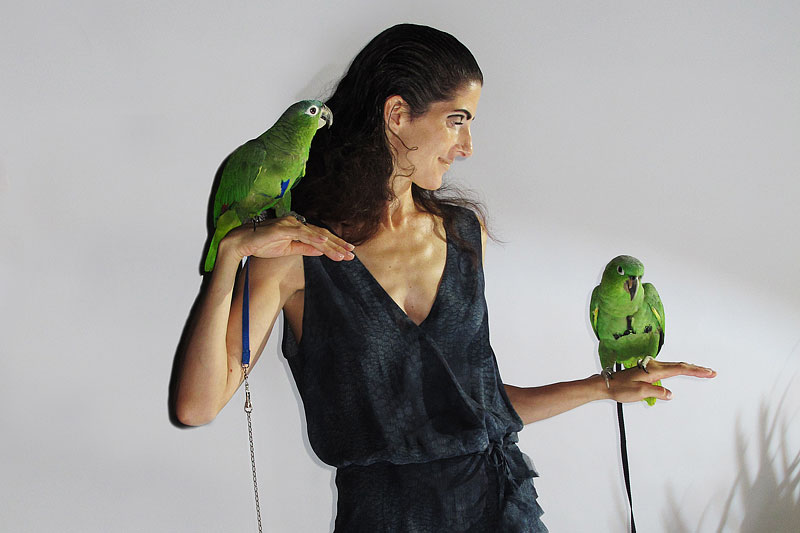 It was Stockholm fashion week, and three of us were invited to take part at one event held by the clothing company House of Dagmar.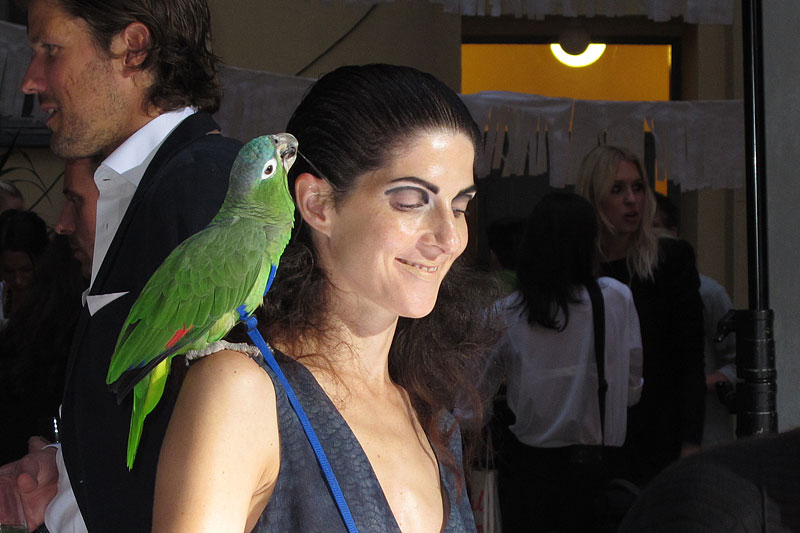 Morran had a different opinion of that hair style, it must be preened!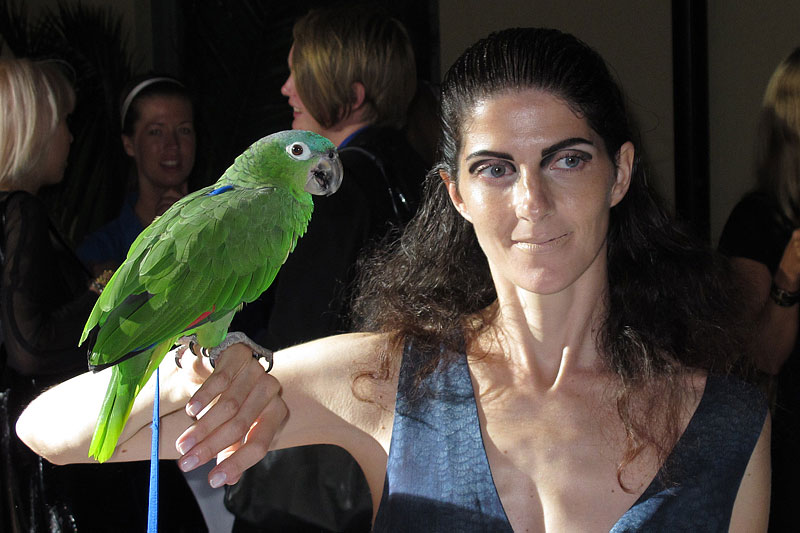 Gimme that hair, I'm not done!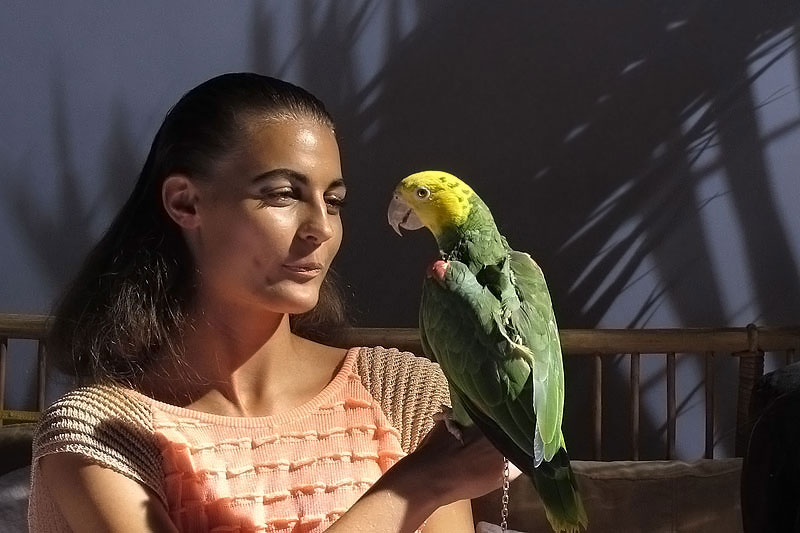 I'm the cutest!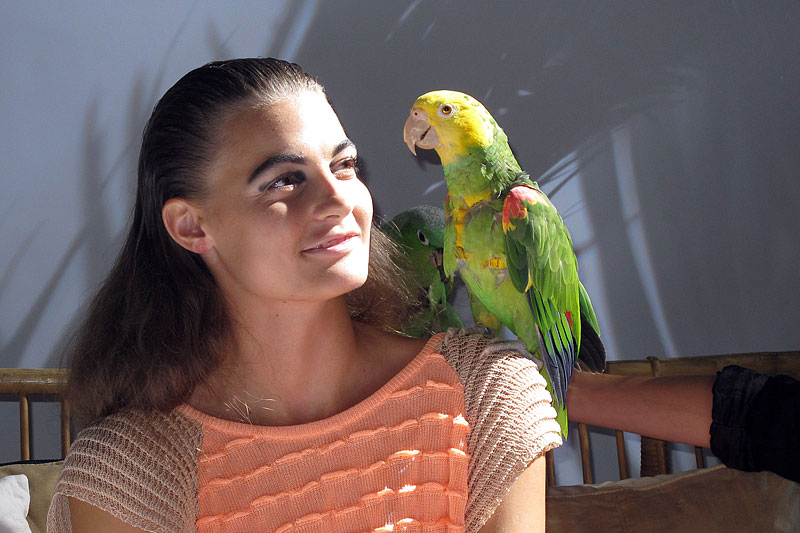 I promise, that red earlobe was not my fault.
---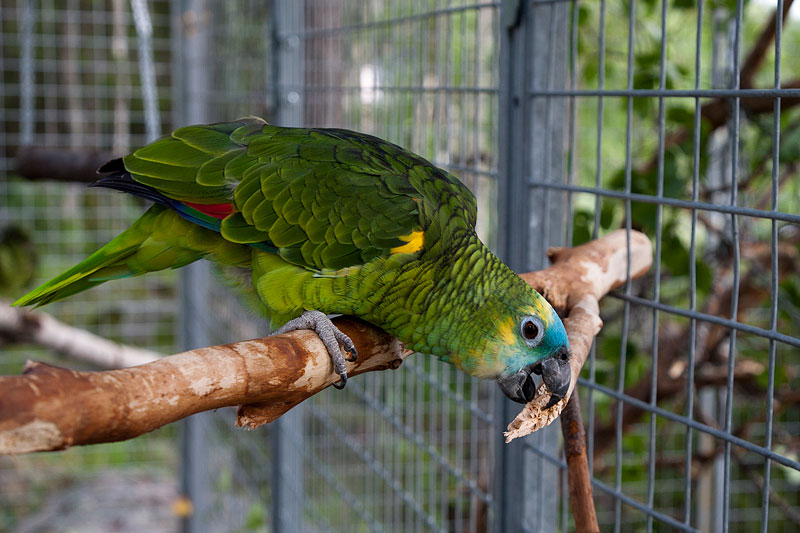 (20-22/8) This was better, to be outdoors again. We are extremely fond of our new cage!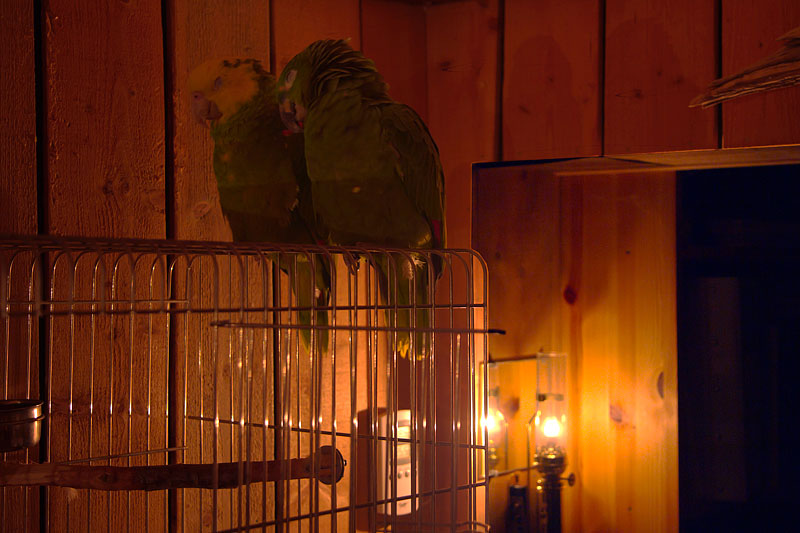 But after a whole day out, we get tired and go to sleep after dinner.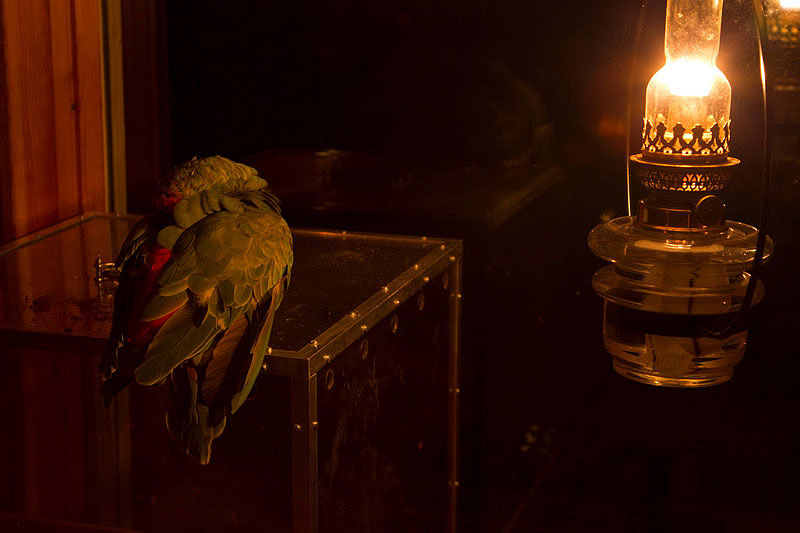 All by a sudden it gets quiet and the big ones can start to relax.
---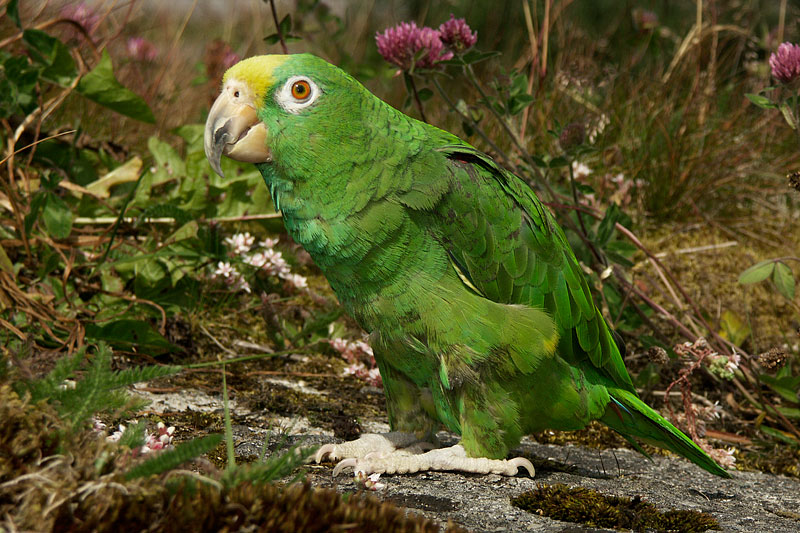 (26/8) Gobi, this is the day when we especially remember you.
---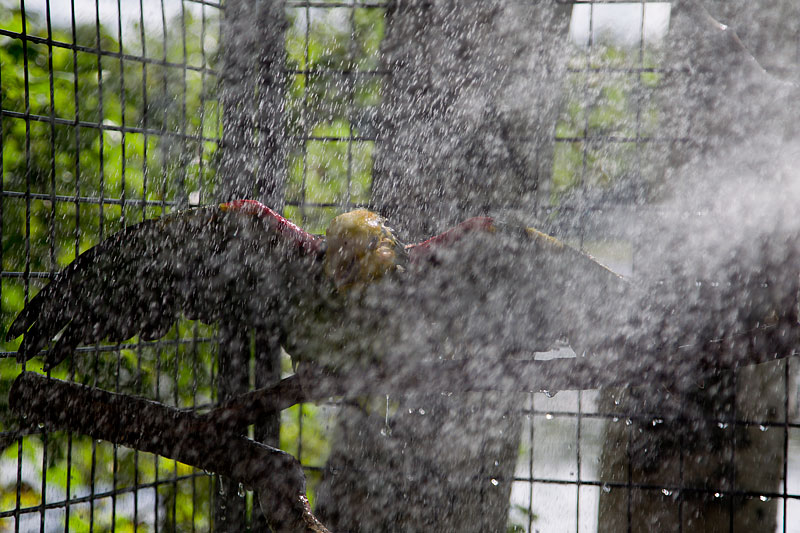 (27-29/8) To shower from the garden hose is great...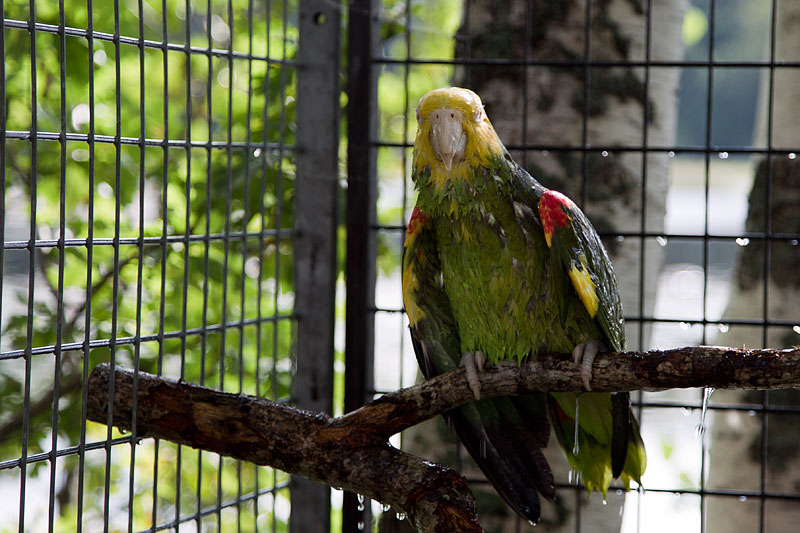 ...and as you can see, we get soaking wet (to say the least).
---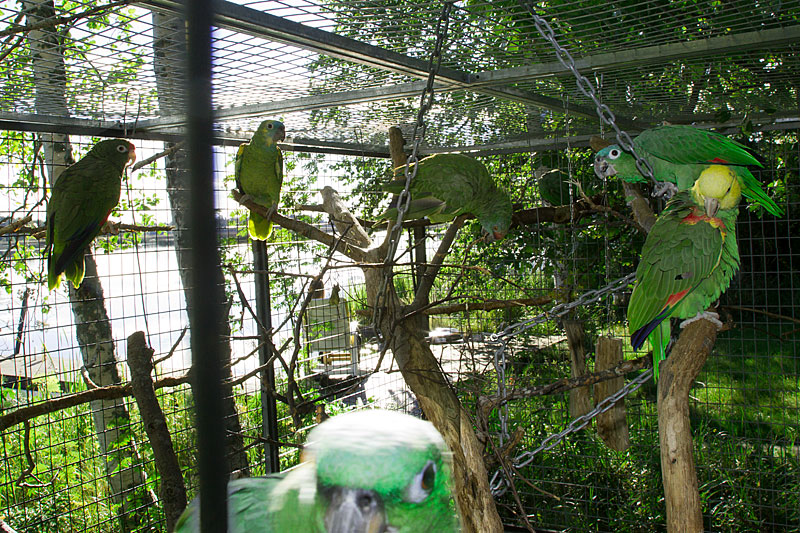 (3-5/9) Another group picture. Not entirely true when Youschi and Fia normally stay in their part of the cage and Victoria outside.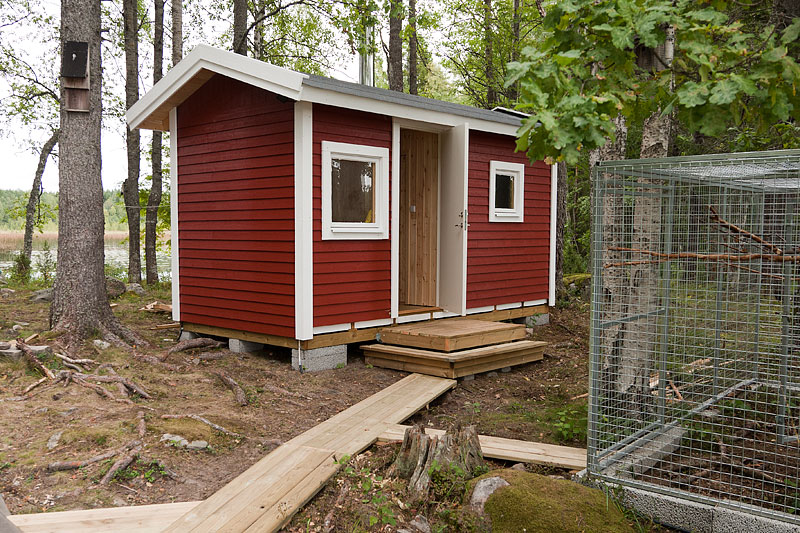 So this is what it became, a sauna. All wood inside they say so we are not allowed to be there. Pity, would have been great fun...
---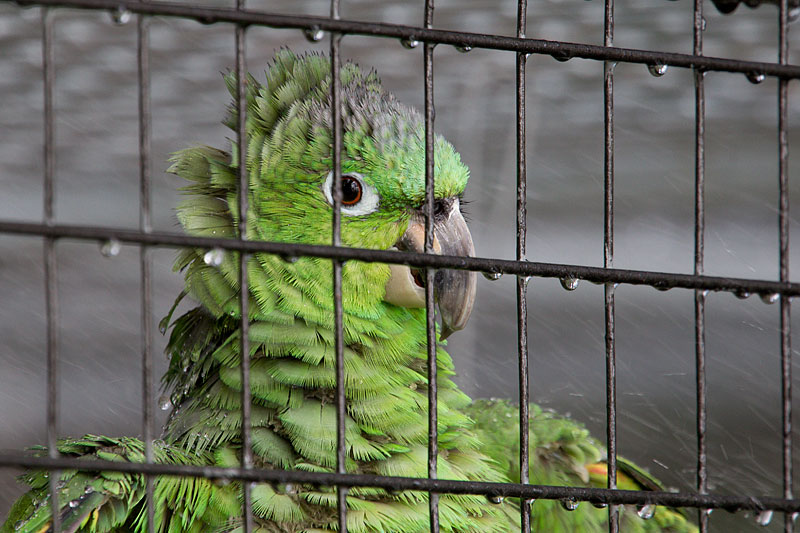 (10-12/9) Time for a shower again.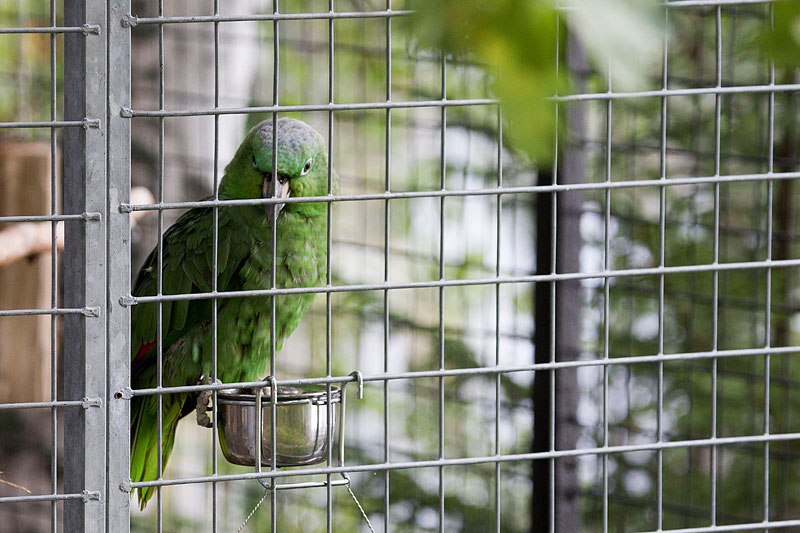 Why is Manne guarding the food bowl?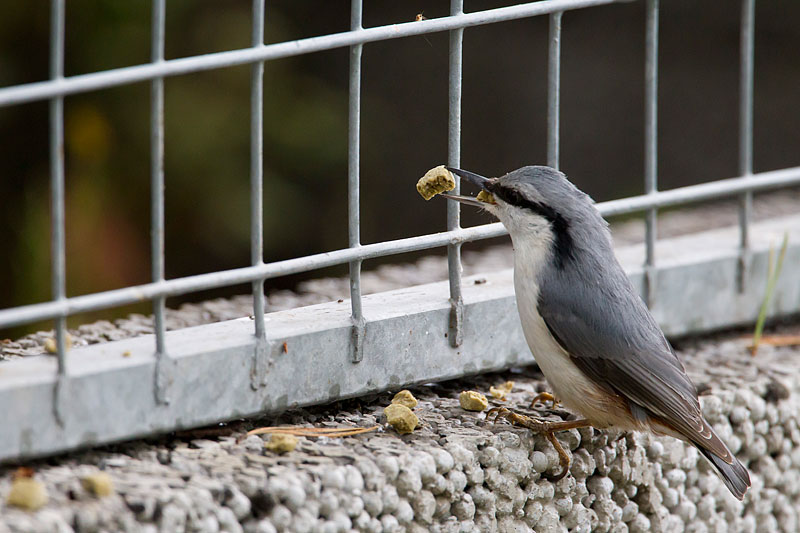 This is why; The Nuthatch is busy filling up its food store for the winter. They have found out that pellets are tasty and empty the food bowls in less than a few hours.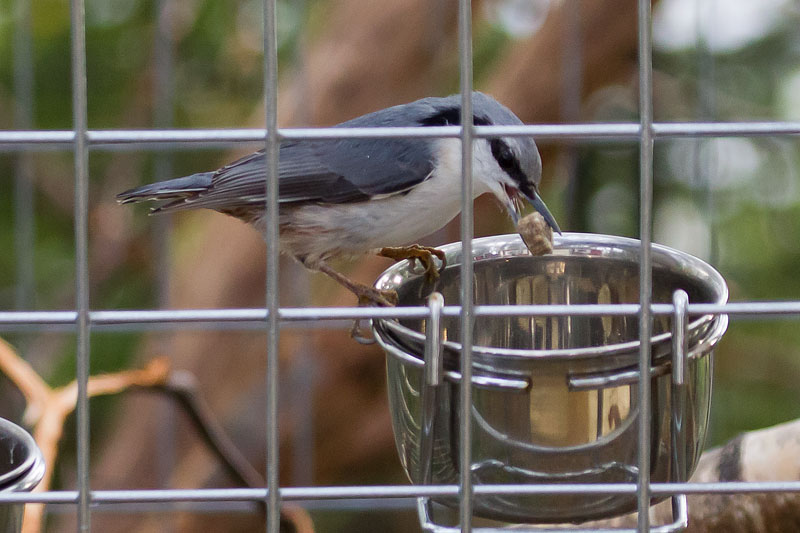 Even when Gruff were chasing them, they easily outperformed him and flew quickly through the net with the pellet.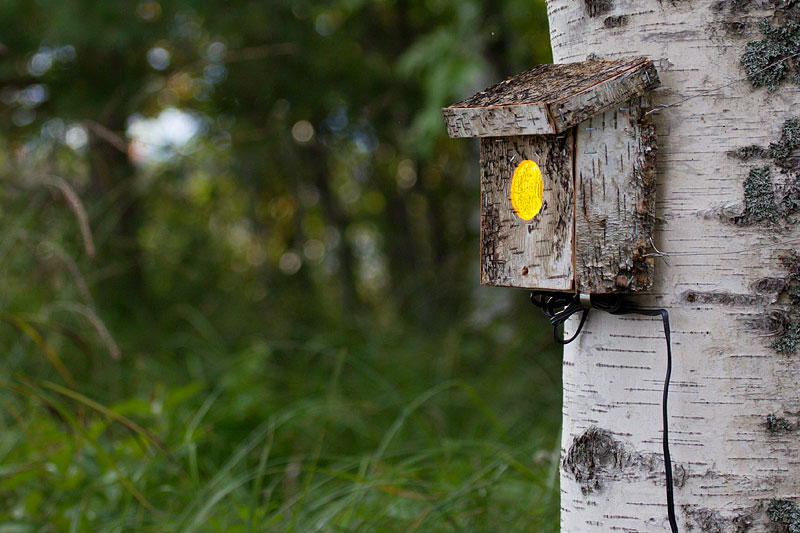 This is where they stay during the dark winter... Or is it simply a hidden lamp to light up the jetty?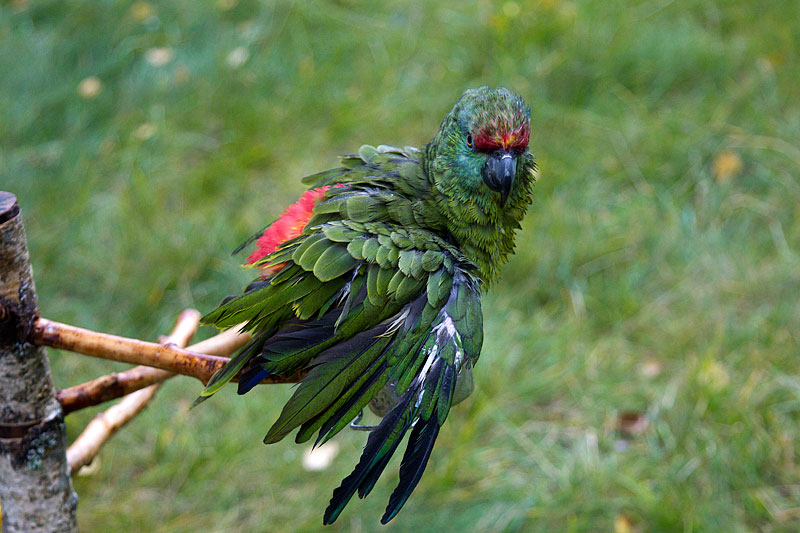 Victoria having a shower (we do that a lot when outdoors).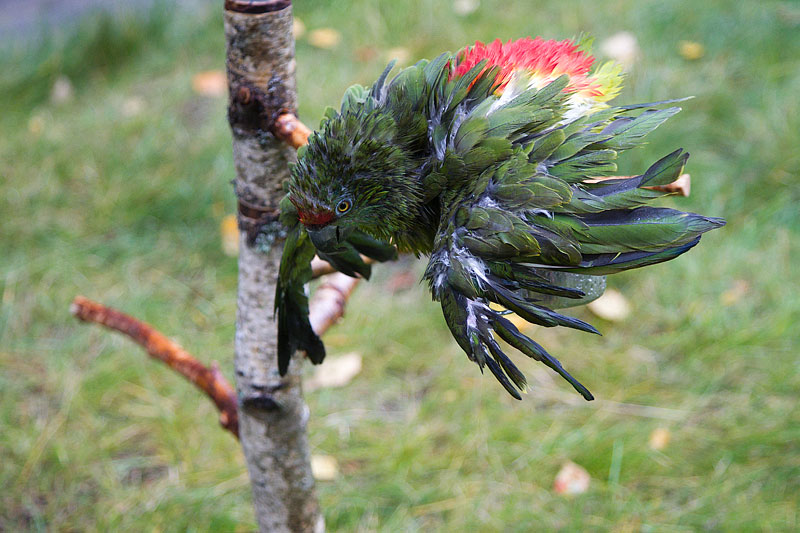 Incoming! Going to land in a few seconds and my afterburner is active... Stop playing around Victoria! What we can see is that you finally have gained some new feathers. This is great news!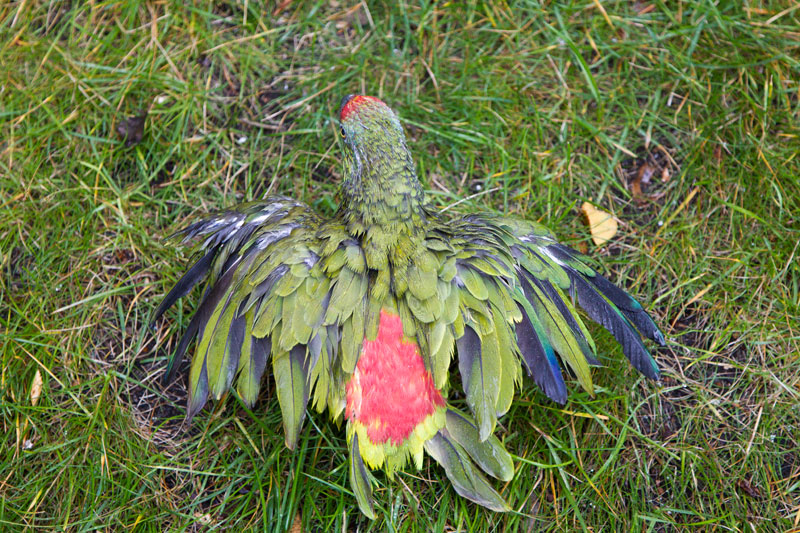 Taxing... Also tail feathers.
---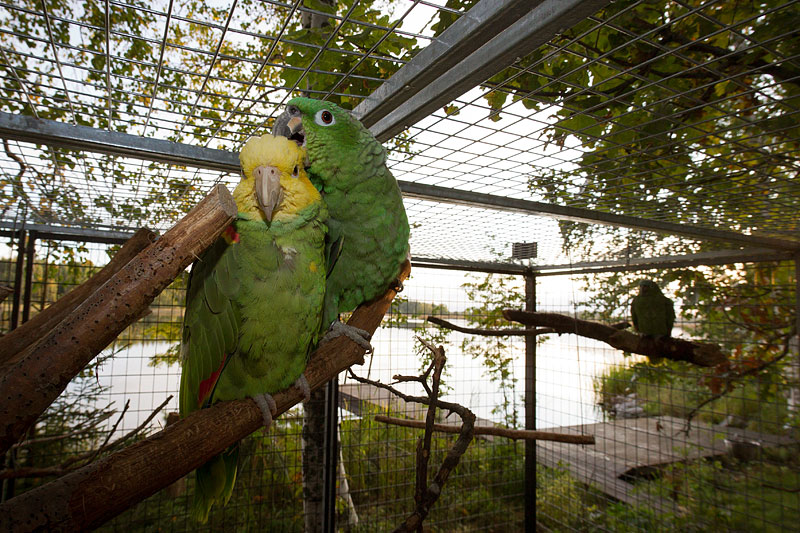 (17-19/9) Late September and the leaves are about to fall off and the temperature is falling. We spend as much time as possible outdoors when we, luckily unaware, will have to be indoors during the dark cold winter.
---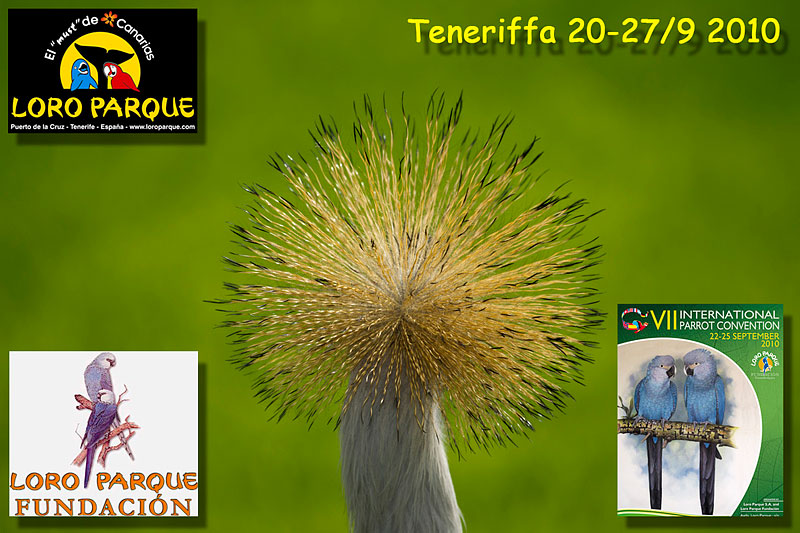 (20-27/9) This week we flew to Tenerife to attend the seventh international parrot convention held by Loro Parque Foundation. (I'm sorry for the Swedish spelling of Tenerife)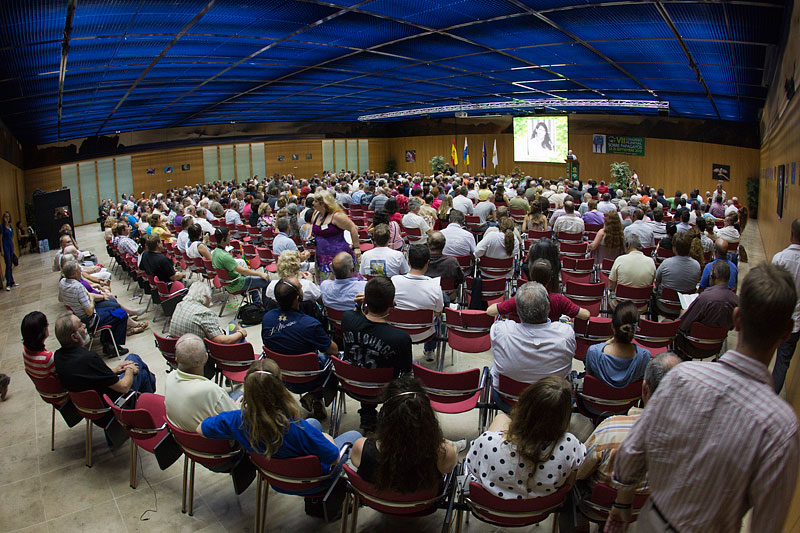 This conference had fewer attendees than the previous one, only about 650 delegates from 35 countries. Still, it was impressive and lots of fun.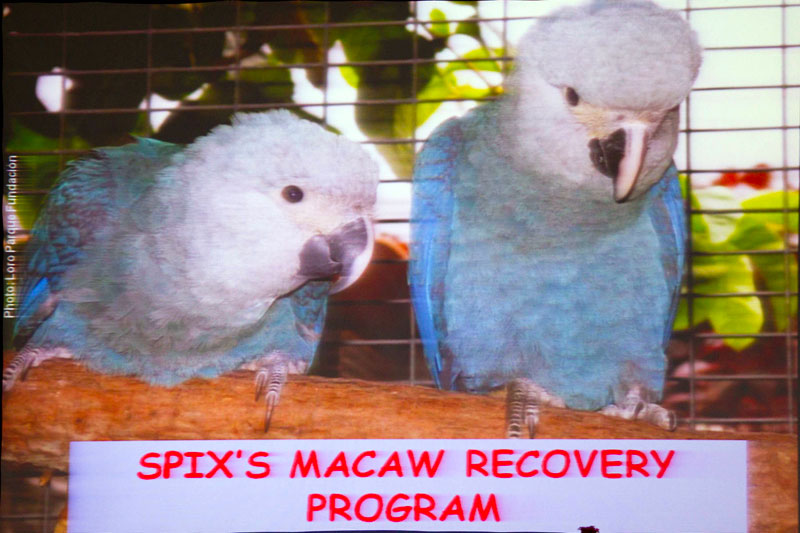 During three days, presentations were held within many areas, like reports from conservation projects of almost extinct parrots in the wild, medical research, keeping and breeding parrots and what Loro Parque Foundation do.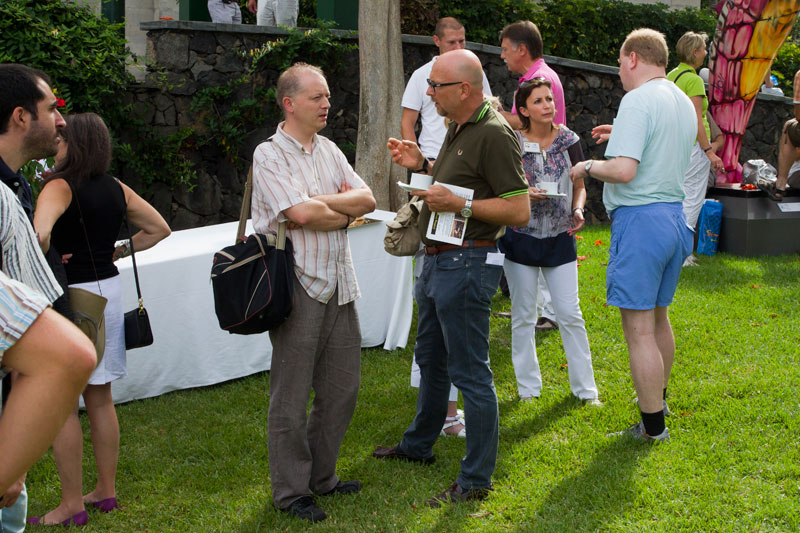 Still, there was not only about watching presentations, it was also very much about meeting people. On this picture you can see the back of Dr. Irene Pepperberg. She did a lot of work with Alex the Gray parrot that got world famous for his proved intelligence. We had a short chat with her about parrot's intelligence. In the middle, you see Emmanuel from France, Morran's breeder.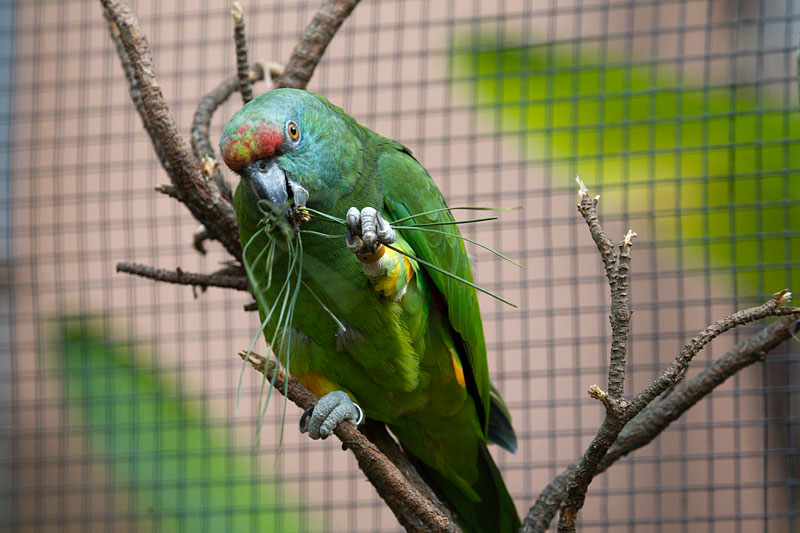 We said one week, not three days. When the conference was close to Loro Parque, in the town Puerto de la Cruz, we spent every day some time at the park but one. In total that was more than 24 hours and we still think we didn't see everything. The park exhibits about 700 parrots from more than 300 different species out of the about 372 today existing in the wild. On the picture you see Victoria's relatives, they were very active.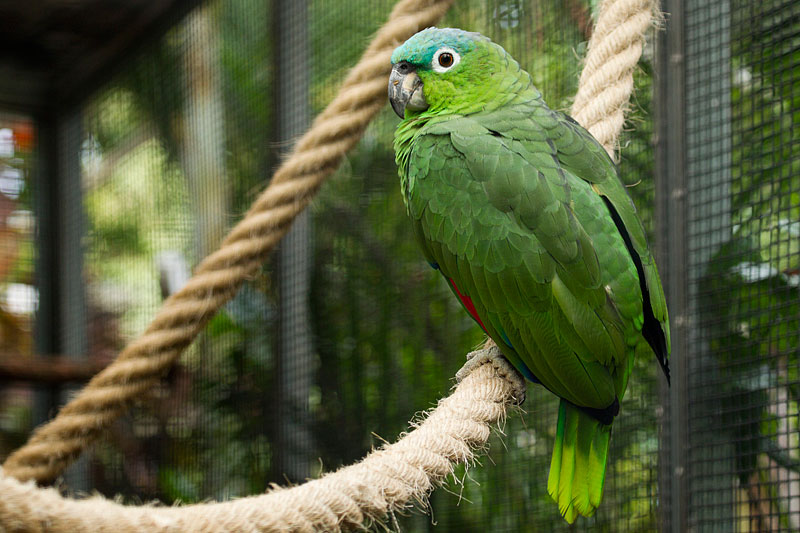 Morran, nope only a relative. We missed Morran back home in Sweden when we saw this bird.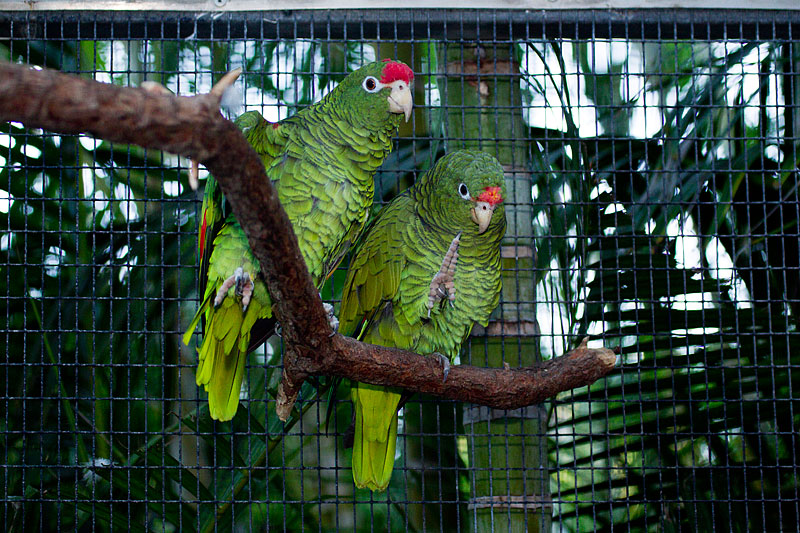 Youschis, two of them, including beaks.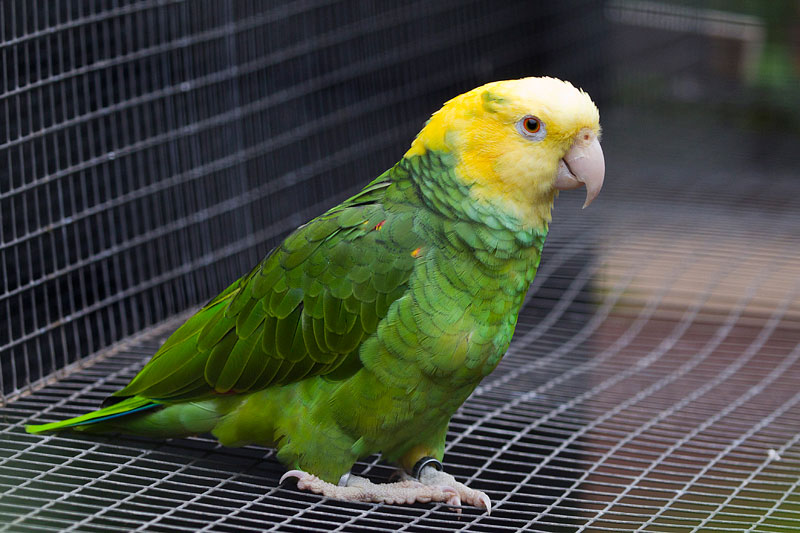 A typical Gruff-alike.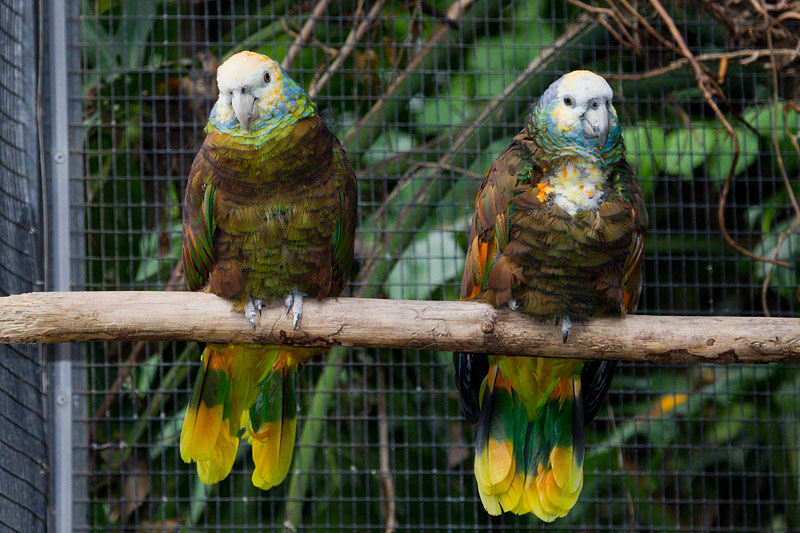 Of all Amazon parrots, this was the most impressive and we got extremely fond of this rare species, Amazona Guildingii or St Vincent's Amazon.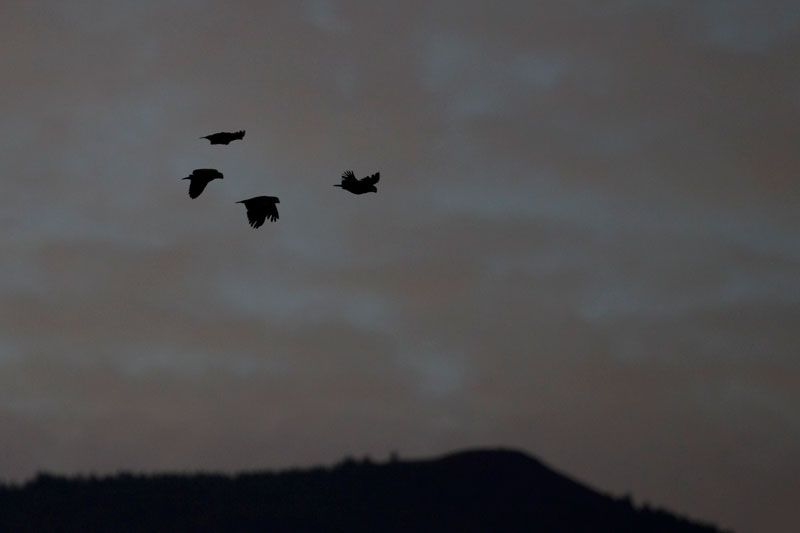 Finally, outside the hotel we saw and heard at dusk and dawn during the week a flock of wild parrots. We thought they were some sort of Parakeets and did not bother that much about it. At one occasion we threw a shot at them with the camera and got heavily underexposed pictures when it all happened so fast and we where taking pictures of something else.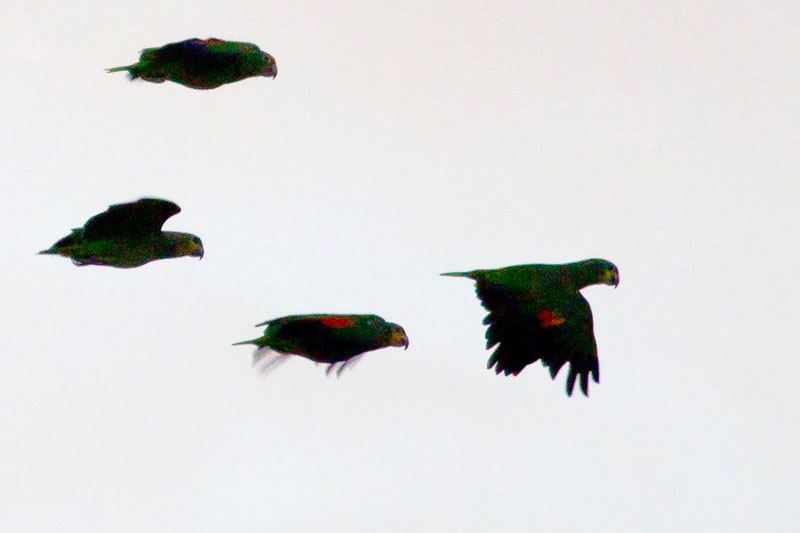 Back home in Sweden and finally getting down to these pictures in early January, we got a small shock. Look at the pictures when we lighten them up in Photoshop, those are not Parakeets, they are Amazons!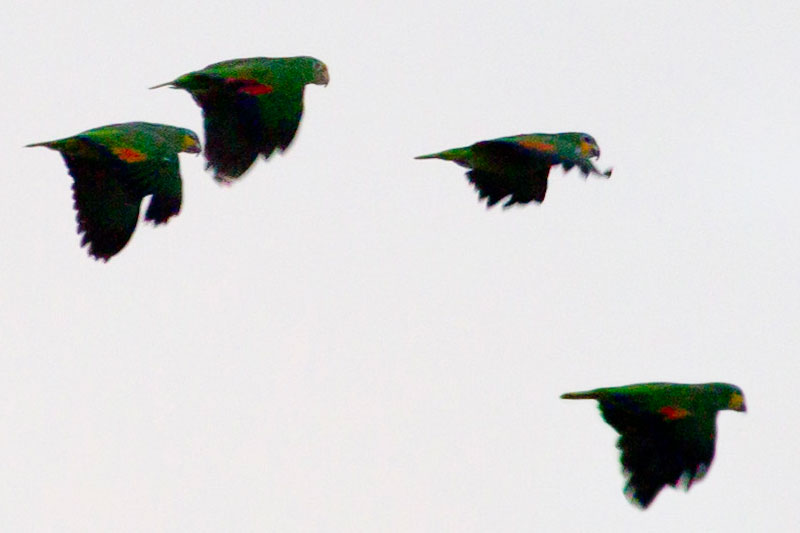 Provided there are not any hybrids it seems to be Orange winged and Panama Amazons and they were so happy. If we knew that when at site, we would have spent more time finding them when they were roosting nearby. Darn! Nevertheless, now we have even better reasons to go there again in four years.
During the week we took almost 5000 pictures and you can see some more of them after this link Articles Loro Parque
The journey continues over October - December.